Currently we provide the following options:
Transferwise (works like a bank transfer, highly recommended!) - You just provide us with your details, and we will do the rest. Need a bank account or local e-wallet.

You do not need to have a Wise account.
Supports local options like

DANA

,

GCash

,

OvoPay

,

Russian Cards

etc.

Payoneer - You need a Payoneer account to receive.
Paypal (Via Tipalti)
PayNow - Only for Singapore Sellers (see below for details)
You can select your preferred method via Payout Options settings: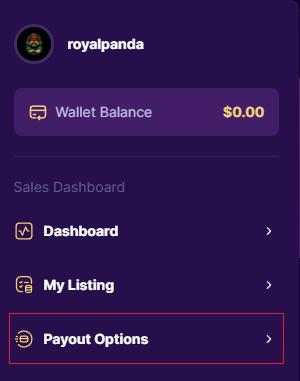 Transferwise (Highly Recommended)
Transfer money easily and quickly with low-cost money transfers. We can send money to the countries listed here.
Simply use your registered email address and you'll receive a secure link to enter your bank details. Transfers is typically fast, and there's no need to create a TransferWise account.
TransferWise charges fees depending on the currency you choose to receive. Withdrawing to a non-USD currency means you're converting funds from USD to your currency, and TransferWise will charge you a percentage of the total amount. On average it's 0.70% but it varies by currency, you can see how much fees incurred here.
Payoneer
With more than 200 countries supported, get easy and reliable international bank transfers with Payoneer. Create your Payoneer account here and enjoy lower payout fees. If you encounter issues, please visit Payoneer's Support Center. Note that while there is no fee for receiving payment, there is a fee for withdrawal. On average its 1-2%, but review the details here.
PayNow (Singapore Only)
Only available for Singapore sellers, do send an email to support@zeusx.com or log a support ticket to us via our platform if you prefer to receive via our local payment method. Each transaction incurs a fee of $0.50 .
Paypal (via Tipalti)
Minimum US$20 and US$2.5 + 2% withdrawal fee
Estimated time to receive your payout to Paypal is usually 1-2 days.