✓ Listings posted on ZeusX must meet the following criteria:
Posted under the correct product type and category (Accounts, Items, Game Gold, Top-ups, Gaming Services)

Posted under the correct game, server and faction (where applicable)

Provide accurate listing descriptions and titles

Listings should use the appropriate Tags and not include irrelevant Tags
✖ Listing Descriptions should NOT contain the following:

Member's email address, phone number, instant messenger ID, or other personal information

URLs to other websites used as a prohibited solicitation tool (URLs to better showcase the product are OK e.g. Google Docs)

Listings with unrealistically expensive or cheap pricing

Nudity or overtly sexual, profane, or otherwise offensive content

Profane or patently vulgar language (includes language that is racist, hateful, sexual, or obscene)
✖ Types of Listings NOT permitted on ZeusX:

"Want to Trade" (WTT) Listings

Test / Demo Listings

Listings posted under wrong categories, e.g. gaming service listed under Top-ups.

Using wrong tags or search filters when their product/listing does not actually have those characters/items

Duplicate Listings of the same type of product e.g. Genshin Accounts
- Merchants are not allowed to have more than one fixed price listing at the same time for the same product / item
- If there are multiple stock of the same items for sale, the "Multiple Quantity" option should be used during the listing process.


Example: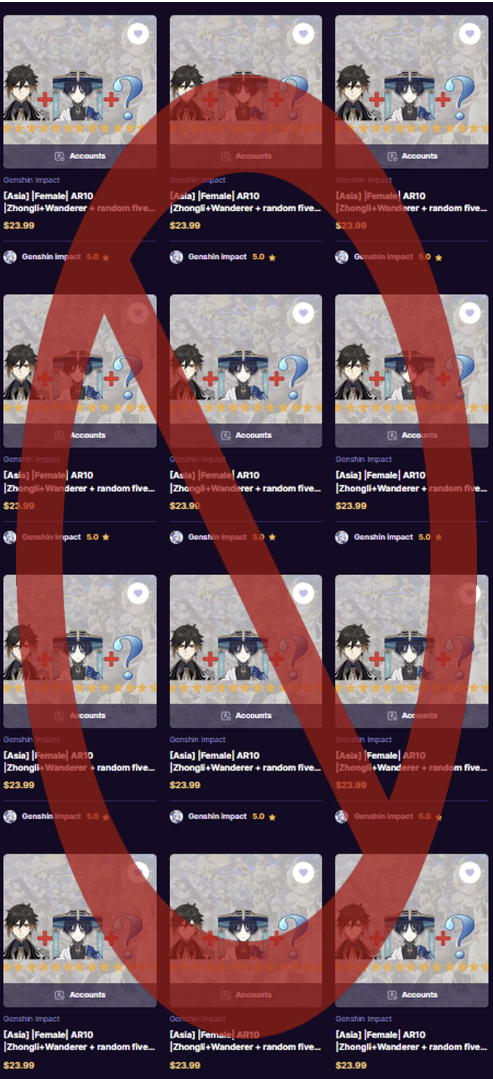 These policies are in place to facilitate a safe, fair, and enjoyable trading environment for all members. We reserve the right to determine what content is appropriate for our site and to remove any content that we find to be inappropriate. Listings in violation of our policies may be removed from our site without warning and can result in suspension or permanent closure of your account.